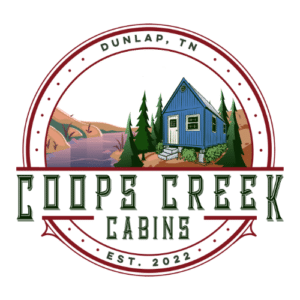 Shoes must always be worn when outdoors on Coops Creek Cabins property.

Any sticks found on the ground can be used in fire pits. 

Do not leave your fire pit unattended with an active fire. 

Reuse bath towels when possible.

(Please text us if you need more towels.) 

No pets allowed unless staying in a designated pet friendly cabin. 

No smoking allowed on the premises.

No flushable wipes allowed in the toilets.

Do not take blankets outside to the fire pit.

No adult photography or videography of any kind is allowed.

Outside lights come on automatically around dark and shut off at 11:00 pm CT.
Also, everything needed to make up the sleeper sofa can be found in the storage cubes under the windows and in the basket under the ladder.